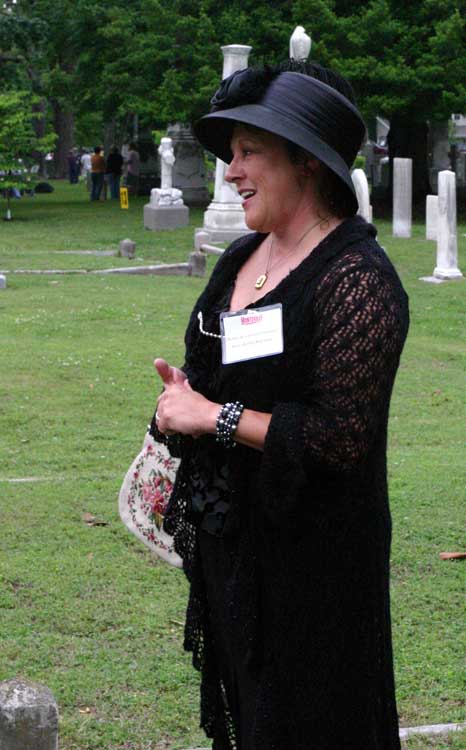 Maple Hill Cemetary Stroll, 5/7/06
Annie Bradshaw Clopton
..............................N Walker
---
Annie Bradshaw Clopton 1878-1956 (portrayed by Elizabeth Burdus) . Anne was born July 22, 1878 near Shelbyville, Tennessee. She married James Blunt Clopton on February 12, 1906. They had four children who were born on a small farm in Merrimack Village named the large cotton mill operating there at the time. The area is now called Huntsville Park.
James Blunt Clopton ran a grocery store on the edge of the little village and his bookkeeper was the beautiful and talented Anne Bradshaw. She worked with him from 1902 until 1911. Anne retired to raise her growing family and James became an agent for the Metropolitan Life Insurance Company.
Ann gained international recognition for her art. She perfected a method of painting with oil on cobwebs, resulting in ethereal, elegant works. Her paintings were exhibited at the New York World's Fair, the Robert Ripley's Believe It Or Not Museum in St. Petersburg, Florida, and numerous other museums. She also appeared on a number of television programs of the early 1950's.
She taught Latin, math and art from 1921 to 1943 at Joe Bradley High School. She formed the first Girl Scout troop in Alabama. She willed her large art collection to the Burrett Museum in Huntsville.