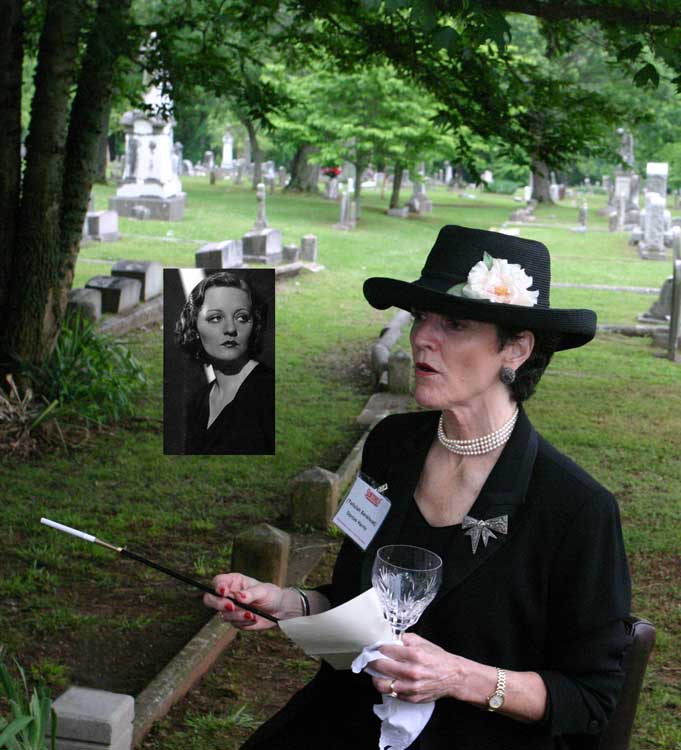 Maple Hill Cemetary Stroll, 5/8/05
TALULLAH BANKHEAD
...
---
Tallulah Bankhead was the daughter of William Bankhead, a prominent North Alabama politician that was U.S. House of Representative Speaker for a time. His daughter, however, completely outdid her father in the fame category. There is more information on the Internet about Talullah than all the other Huntsville celebrities put together. She performed for many years on the stage, movies and even TV. The cigarette and glass demonstrated in the re-inactment by Dorcas Harris indicates the life style practiced by Ms Bankhead. A few of the details of her life are provided below:

From the web site http://home.hiwaay.net/~oliver/tbintro.htm

"Welcome Dahlings! Outrageous, outspoken, and uninhibited are just a few adjectives that described Tallulah Bankhead's personality. Most people who met her never forgot her -and she made sure of that! At the age of fifteen, she stormed out of her home state of Alabama like an April tornado, determined to gain attention and recognition. She did achieve stardom working in virtually every medium - stage, screen, radio and television - but her fame was attributed more to her outrageous antics than for her work.

Possessed of a tremendous energy level, very few people could keep up with her. She smoked over one hundred cigarettes per day, drank gin and bourbon like they were water, and carried a suitcase-full of drugs to help her sleep, stay awake and just function in general. She reportedly engaged in hundreds of affairs with both men and women. Her biting wit, salty language and outlandish behavior – like the propensity for taking off her clothes at the drop of a hat – shocked and outraged everyone.

She was a woman of contradictions. Although her private life could be called anything but conservative, she was highly selective when she chose her professional projects. She highly respected those with common decency and old-fashioned manners, even if she didn't particularly practice them herself. Although she could be very cruel and vindictive when crossed, there are many accounts of her kindness. Her generosity to those in need is legendary, including her love of animals and children (she was a foster parent to many underprivileged youngsters). She claimed to be broke most of her life and, indeed, spent money wildly. Secretly, however, she was a shrewd businesswoman and when she died, her estate was valued at almost $2 million. "